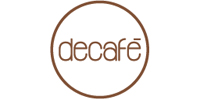 Decafé is a stylish and innovative design concept for lighting and accessories made from sustainable and recycled materials. After a long and arduous experimental phase, the patented composition consisting of coffee grounds, organic binders, pressure and heat crafted by Spanish designer Raúl Laurí quickly became an award-winning sensation in the international press.
Decafé has been awarded with the Certificate of Excellence by Material Connexion and is now part of its permanent collection MCX, the largest catalogue for innovative and sustainable materials worldwide. Material Connexion is the consultant firm on which the 500 largest companies in the world rely.
Raúl Lauri design lab was born with the intention to making the most of our everyday's wastes and its emotional aspects. In this case, he has chosen coffee since it is a product which is near to the user, well-known and worldwide consumed.
In addition, it is certain that coffee is an 'experience bearer' as we cannot ignore the fact that thousands of stories and events normally take place surrounding a cup of coffee. So, why should we get rid of such a valuable product when it is possible to make the most of its emotional aspects?.
Decafe work focuses on looking for new sustainable ways, producing objects capable to arouse the emotions on the user, always with simplicity and essence of each project as a goal.
Raúl Laurí Design Lab carry out the design and self-production of the pieces. It is halfway between craft workshop and experimental laboratory. This is the essence
and closeness that we want to communicate. All the pieces have a human aspect. Sometimes bringing sculptural and artistic shades. In our workshop we take care of the smallest details in order to arise the emotions of the user.
Download